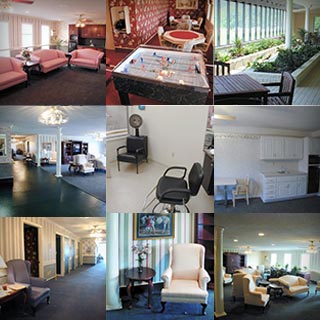 Easy Living Country Estates is an independent living facility with an attractive décor, comfortable and spacious rooms and the highest level of care available. It is nestled on 7.5 rural acres near West Newton, PA with immediate access to the PA turnpike, Interstate 70, Route 119.


Our wide array of Personal Care Home services coupled with our spacious and elegant independent senior living suites, enhanced by both indoor and outdoor recreational facilities make Easy Living Country Estates a pleasant and enjoyable home-like residence. Our senior living home facilities are of the best near West Newton PA.


Independent Living Community
Residents, individuals or couples live in apartments that are independent from the personal care facility. They select participation in their personal daily activities without supervision and are welcome to join daily meals and social activities in the personal care home as well. Cleaning and maintenance of these apartments are included services, along with postal service delivery and free use of laundry room. Easy Living Country Estates management is always available for assistance acquiring health care or other public services in the senior care facility.


Personal Care Home West Newton PA
Personal Care services are provided for individuals unable to perform activities of daily living without assistance and require help with one or more activities of daily living, such as bathing, personal hygiene, meal preparation and medication administration. Assistance is also available with other activities such as socialization, transportation, and scheduling appointments.


What Is The Difference Between A "Personal Care Facility" and an "Assisted Living Community?"
What is the difference between a "personal care facility" and an "assisted living community?" While an assisted living facility and a personal care community are often associated as the same, they do have differences that are important to note. The main difference is that personal care community residents who require skilled health care services have access to a health care center within the facility. An assisted living community has no health care center, so additional services are brought to that resident for as long as possible and then they are discharged to a health care center if additional services are needed. Senior assisted living provides long term housing, care, and support for seniors such as dressing, bathing, and using the bathroom.


Home Health Care Service
Home Health services are an integral component of personal care in a West Newton senior care facility. It is a tremendous benefit to the residents with health problems. Personal Care facilities are considered your home residence, therefore home health services qualify for Medicare payments.


A "Plan of Care" is developed with the physician who then approves all the care and therapies that are to be provided to the resident while residing at Easy Living Country Estate's independent living community. The home care nurses and therapists work with our staff on instructions and assistance for all procedures.  It is your choice which agency you wish to provide the service(s) for your home health care needs.  The following West Newton senior care home services are offered:
Wound Care

Visual Therapy

Balance Rehabilitation

Hospice Care

Podiatry Care

Community-based Services
By offering such a broad diversity of services for senior living residence near West Newton PA, Easy Living Country Estates provides the maximum freedom of choice for residents, and a high comfort level for residents and their families.  A post office, doctor's office, exercise bikes and a "Sit n Be Fit" exercise program are all available in the independent living community for resident convenience.
Recreation

Designed to create a feeling of community and a sense of fulfillment, our activities for senior living residence encompass a broad variety of interests, ranging from relaxing walks around our grounds to on-site events, religious services, and weekly live entertainment.
Contact Us
Call Easy Living Country Estate at 724-925-1159.